Active Member
Registered User
Joined

Dec 23, 2018
Messages

882
Reaction score

11
Points

38
Credits
Best answers

0
Origin
Residence
BeiDou, China's answer to GPS, 'six months ahead of schedule' after latest satellite launch
Launch of 29th satellite continues push towards greater positioning accuracy, with all 35 now set to be launched by first half of 2020
It will compete with the US Global Positioning System in the civilian market and be adopted by Chinese military
Liu Zhen
Published: 1:16pm, 6 Nov, 2019
The latest BeiDou satellite is launched in southwest China on Tuesday. Photo: Xinhua
China has launched the 29th of its BeiDou navigation system's satellites, state media reported, saying that the system – intended to
rival the US-developed GPS
– would be completed next year, six months ahead of schedule.
Carried by a Long March-IIIB rocket from the Xichang Launch Centre in the country's southwest, the latest satellite was the third and final part of a network covering China and surrounding areas, according to state broadcaster CCTV on Tuesday.
It is intended that China's People's Liberation Army will adopt BeiDou in place of the US Air Force's Global Positioning System (GPS), and that BeiDou will compete with GPS in the global civilian satellite navigation market – especially in conjunction with China's transcontinental infrastructure strategy the
Belt and Road Initiative
.
"It has significant and strategic implications for the Belt and Road Initiative," Chen Zhonggui, the designer of the satellite, was quoted as saying.
BeiDou is China's independently developed and operated navigation satellite system. With both military and civilian applications, Beijing hopes it will "meet the needs of the country's national security as well as economic and social development", according to a white paper in 2016.
The system is designed to be able to specify location to 10cm of accuracy for military use, compared with GPS's 30cm.
The latest launch completes BeiDou's network of three "inclined geosynchronous satellite orbit" (IGSO) satellites, which will circle the Earth in a "figure of 8" orbit.
The will be centred at longitude 118E, which covers China and the surrounding area, to greatly improve its accuracy.
The launch took the total number of BeiDou launches to 49, including those during two previous phases of test satellites.
The third generation, which is fully operational, will comprise 35 satellites with functions including positioning, timing and short message communication.
Two more launches are planned before the end of the year, with the remaining four to be launched in the first half of 2020 – completing the network six months early, according to the CCTV.
Compared with GPS, BeiDou offers some distinct capabilities such as text messaging and user tracking through its short messaging service.
The third-generation launches began in November 2017 and a basic global service started running last December with a positioning accuracy of about 10 metres globally and 5 metres in the Asia-Pacific region.
Once more satellites are in operation, accuracy will improve to less than 1 metre for all users.
Russia and the European Union are developing similar global satellite navigation systems, named Glonass and Galileo respectively, but their progress has fallen behind schedule.
This article appeared in the South China Morning Post print edition as: GPS rival on course for an earlier start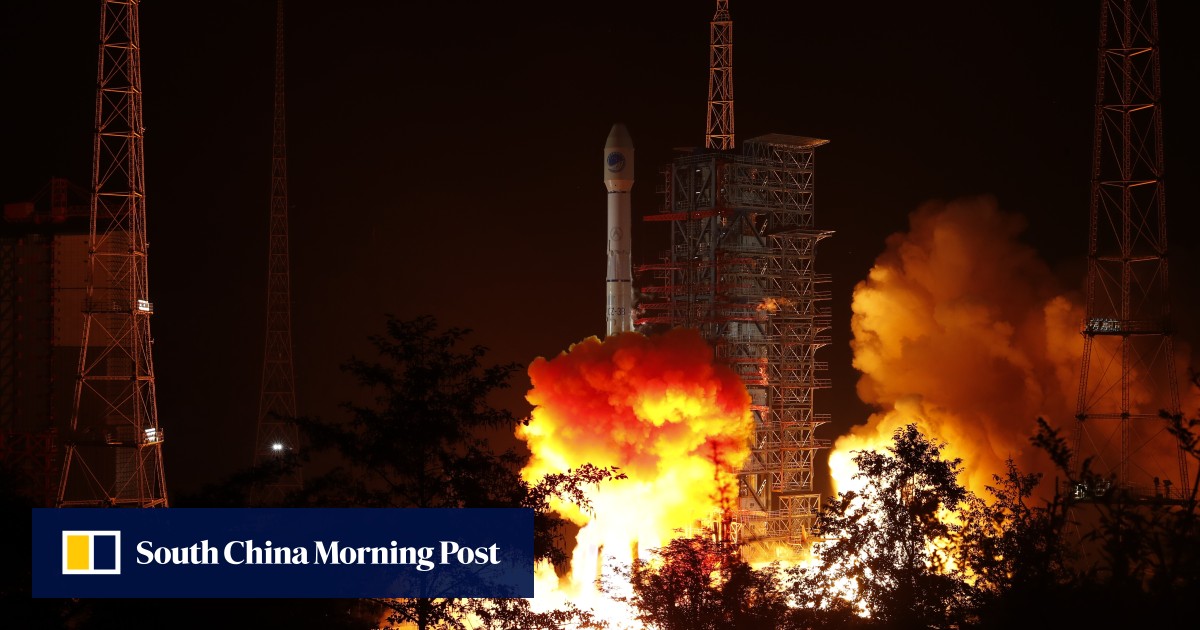 Launch of 29th satellite continues push towards greater positioning accuracy, with all 35 now set to be launched by first half of 2020 as BeiDou competes with the US Global Positioning System in civilian and military use.

www.scmp.com